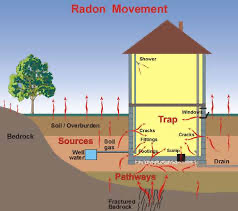 At Tech-Smart Inspections, LLC, we provide radon testing for Albany-area homeowners and homebuyers alike. Whether you're hiring us for a full home and radon inspection prior to purchasing a house, or you're a current property homeowner who wants to check if there are unsafe levels of radon in your basement, you can count on our crew for accurate testing and results.
To find out more about our home radon detection service in the Capital Region, call now!
What Is Radon?
Radon is a colorless, odorless, radioactive gas that is produced by the natural decay of uranium. It is found in nearly all soils. However, radon gas becomes a concern for homeowners when it travels up through the soil and into vulnerable spots of the property's foundation, or even into the water supply in some cases. When radon gas builds up, particularly in confined spaces with little ventilation like basements and crawlspaces, it can become more concentrated and pose a danger to the occupants of the dwelling.
Why Is Radon Dangerous?
Prolonged exposure to radon gas is a known cause of lung cancer. In fact, according to the American Cancer Society, radon exposure is the second leading cause of lung cancer in the United States, right behind cigarette smoking. It is related to an estimated 20,000 deaths each year.
When radon gas is airborne, it breaks down into tiny radioactive elements that enter the lungs when inhaled. Once they're in the lining of your lungs, they give off radiation. Unfortunately, when there's too much radon in your home, it can gradually damage your lung cells and potentially lead to lung cancer.
There may also be a link between radon exposure and other cancers, such as childhood leukemia, but the evidence is mixed.
WHAT'S INVOLVED IN A RADON TEST?
Radon tests are simple to perform as long as the site of the test is left undisturbed. During a typical radon gas test, Tech-Smart Home Inspections, LLC, will strategically place state-of-the-art electronic radon detectors on the lowest living floor where we advise occupants not to enter for the next 24-72 hours. At that point, we will come back to retrieve the device and produce the findings in a hardcopy report.
Radon in homes has been discovered throughout the greater Albany region, so it would be wise to assume that the home you are buying or living in could possibly have it, too.
Don't take risks with your family's health and safety. Call Tech-Smart Inspections, LLC, today to schedule a closer look.
Our prices range based on our service bundle discounts as well as the scope of work that you require. Please call or text 518-522-1449 for a free quote.